It is an abusive and illegal RUSE against the 86% and NM's Protected Wild Horses for a Highway.
By Patience O'Dowd, president, Wild Horse Observers Association (WHOA) 9/27/2023
The Ordinance 5-24-23.1 to BAN assistance to "FREE ROAMING HORSES" does not apply to Wild Horses. WHY? Because Sandoval County did not want to be sued, it is a RUSE for a Highway Developement Crime Ring folks, counties do not have jurisdiction over wildlife AND it is not codefied in Sandoval County Animal Control Ordinance. Not there even after September 1st, 2023. Please continue to live your lives without fear of criminalization.
Placitans have been terrorized all year by draconian threats to criminalize and jail elderly Placitans (to selectively harm Wild Horses and their advocates) and more, ALL with no legal basis beyond our ill-placed-trust in our local government as Americans.
My goal for this article is to relieve some of the REAL STRESS caused by the Sandoval County government, in this instant case, nothing less than a Developement/Developer Crime Ring against 86% of Placitans. Law abiding, tax paying Placitans with an average age of 60 have been harrassed all year by our small time thugs County Manager Wayne Johnson, County Attorney Michael Eshleman, and County Sheriff Jessie James Casaus and their fellow thugs on the County Commision. They picked up the shovel of dirt that our State "representatives" Senator Brenda McKenna and Representative Matthew McQueen could not pass at legislature, (Senate Bill 301) this year and pounded us with a faux Ordinance, in police state manner. A three ring circus CON, harming the innocent, and their innocent constituents.
Try to Keep in mind, that New Mexico's Wild Horses are NOT defined as "Free Roaming Horses" and they are not subject to this faux Ordinance that has nothing to do with Wild Horses in the State of New Mexico, or in Sandoval County, NM. Our Placitas Spanish Colonial, returned native wild horses, are well established legally and biologically as "Wild Horses", (See Findings of Fact: 12 to 17) and as "wildlife", by statute, by Attorney General Opine, and, as upheld by the Higher Courts of New Mexico, twice, as well as by the NM Constitution's Green Amendment of 1971.
Our NM media from the Albuquerque Journal, to the NM TV News, to the local Sandoval Signpost keep this information well hidden with false stories about wild hores by professional writers that convincingly imply these horses are not legally protected, that they are starving, that their population is not managed, that they are causing all/many accidents, and each story implies that Our NM Media, really cares! Sorry. They lie meticulously and repeatedly. See below: Who and what caused 4 seperate vehicle and road rage human fatlities in Placitas. Hint: Not the wild horses!
Twenty Twenty Three (2023), the year our government which is under oath to serve us, without bias, pursuant to NM Article XX, Section 1, has instead, endangered, and all but detroyed some of their contituent's lives. One good citizen's son sold her house right out from under her to protect her by getting her out of here, essentially against her will. I am sorry and I hope she will move back. I know her, and the commune with nature here, in this willdlife corridor and the mountains is what she has joyously and bravely lived for.
This is the beautiful Sandia Mountain Wildlife Corridor. During drought, compassionate citizens of Placitas, La Madera, Puertecito, and San Pedro Creek Estates, and around the mountain are literally asked and expected to water wildlife, including Bears, etc. However, Placitans are being terrorized and tricked against their personal and community morals into not helping the Wild Horses they enjoy and co-exist with so that the state and Sandoval County can move forward with the non-transparent developement-ring's plans and the illegal lack of due process on the Buffalo Tract. Note: The UDA FS appear to have been a party to wiping out wildife at the Sandia Mountain through intent and negligence regarding upkeep of springs and provisions for drinkers/guzzlers.
Our sheriff Jessie James Casaus has conflicts of interest that he has not mentioned. Was Sheriff Casaus setting up another woman in her sixties when he told her to go ahead on the D.L. (Down Low.) and ignore the Ordinance? This is recorded. Or, does just Sheriif Casaus realize that this Ordinance is naught but a HOAX? Of coure, and it is.
Thanks largely to NON-TRANSPARENT and Out of State Developers trying to DESTROY the Sandia Wildlife Corridor, with no due process, virtually every new Senator and/or Representative for this area works (outside the law) to find a Wild Horse "solution." Solution for what? These Wild Horses are already under contraceptive population management (due natural predator wipe-out) under the proactive preservation law. This law understands and navigated the rampant Conflicts of Interest in NM. The law which WHOA passed with Senator Komadina in 2007.
What they mean by "solution" is a "look good" way to get rid of them by downgrading them from Wild Horse to "Free Roaming Horses," or to "Dumped Horses." This, to illegally deny preservation and to allow jurisdiction (and wipe out) by any political subdivision of the State with a Conflict of Interest who can hire a "look good" "equine expert" for political cover. They claim Saftey reasons against these peaceful herbivores or "range management" issues of private property yards!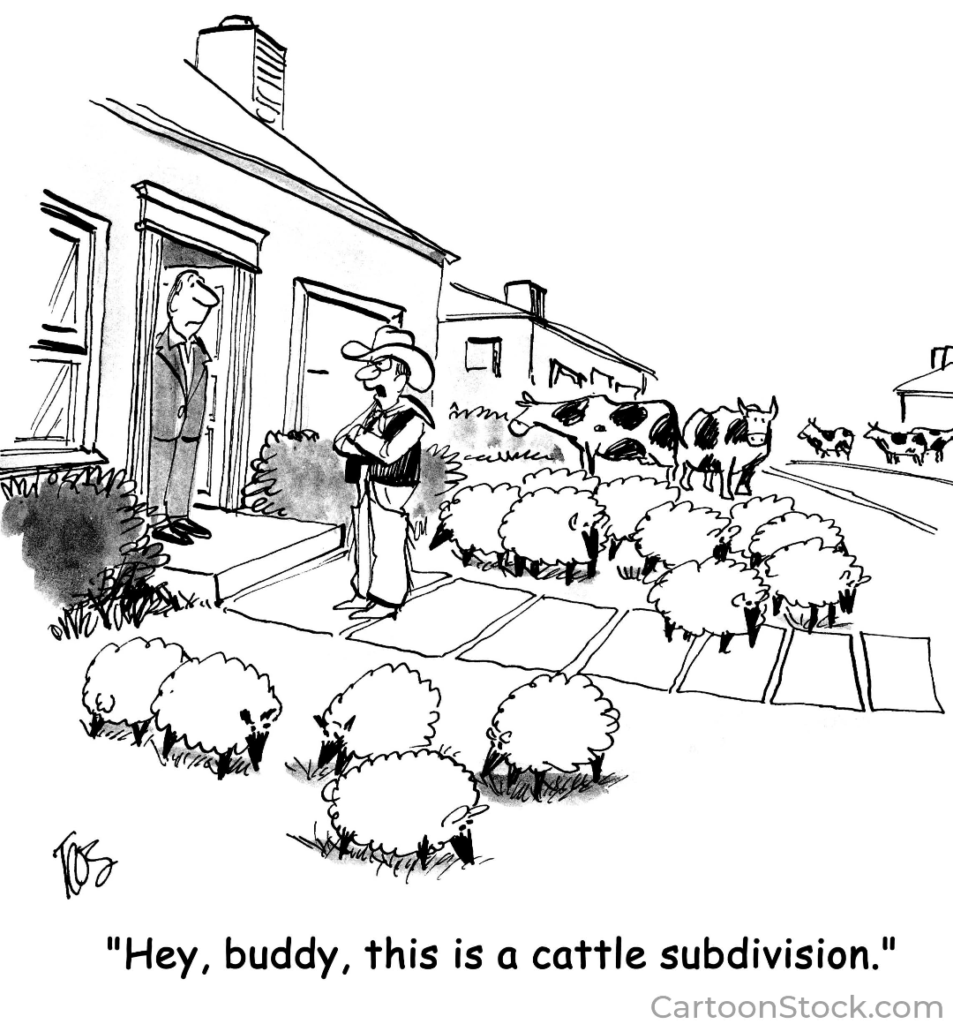 SANDOVAL COUNTY – ADMITTS They have no jurisdiction over Protected wildlife. See 2019 planned Sandoval County Animal Control Ordinance See section 4.9 Prohibited Activites below. a) They admitt that prohibitions against "running at large" do not apply to Protected Wildlife. c) They admitt that prohibitions against animals disturbing the peace do not apply to Proyecyed Wildlife. e) They further admitt that impounding Protected Wildlife is illegal.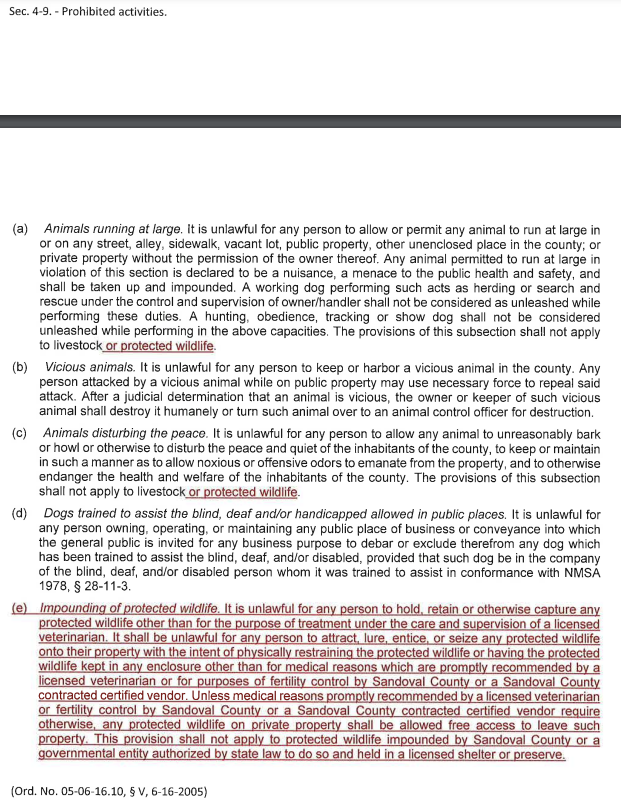 This is after they admitt they should have updated their animal contol section in 2007 when WHOA and Senator Komadina passed the Wild Horse Protection and Preservation law. This is the law whether they update their Animal Ordinance or not and they are not above thi law which they fully undertand as upheld in the courts and on the books since 2007.
They also admitt to th definition of a Wild Horse.

SANDOVAL COUNTY OFFICIALS ALSO KNEW AND CRIED OFTEN ABOUT THE FACT THAT Bad Bill Senate Bill 301 (SB301) (2023) by Representative McQueen and Senator Brenda McKenna was TABLED 6 to 2 on March 7, 2023. It would have illegally recharacterized WILD HORSES to "Free ROAMING HORSES" without preservation capability and more and was therefore TABLED.
However, Sandoval County went ahead and tricked, abused, and harassed their consituents with the fux ORDINANCE regarding "Free Roaming Horses. It was all revoltingly coreographed by both parties led by former NM STATE AUDITOR WAYNE JOHNSON(D) and PUSHED BY COUNTY COMMISIONERS KATHLEEN BRUCH(D) AND LUJAN GRISHAM APPOINTEE JOSHUA JONES(D).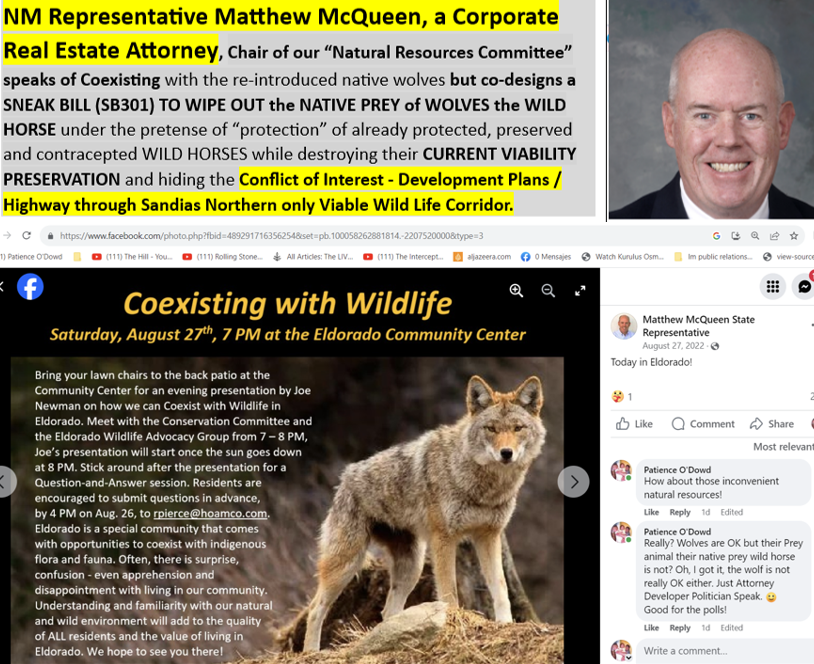 SENATOR MCKENNA AND REPRESENTATIVE MCKENNA have both been working to wipe out the PLacitas horses from the moment they each won in our District.
Senator McKenna in like fashion claims to be a Director in Wildlife For ALL but admitts she knows nothing about Wild Horses, however claimed they were dumped here in Placitas in 2007, (she was apparently stating that for County Zoning purposes) however that is untrue and documented in federal court as well. Senator McKenna also stated the Wild Horses are not native.
She herself was also surprisingly abusive to citizens (Recording Available.)
STEFANIE GARCIA RICHARDS STATE LANDS COMMISIONER was also part of the many plot to change the PLacitas BLM lands to State Land and Develope them with SENIOR WAREHOUSING.
CLAIMS OF "SAFETY ISSUES" BY OUR STATE REPRESENTATIVES and by Sandoval County and Sandoval County Sheriff's Office stating Wild Horses are the cause or center of all traffic accidents PALE in comparison to REALITY.
Placitans have suffered four (4) tragic traffic deaths in the last 5 years.
1) In 2020 a Sndoval County Sheriff's officer tradgically backed over a Placitas female property owner while on call at her home.
2) Attorney Paul S. Livingston who was advocating against Gravel Mining on th Buffalo Tract was killed by a driver under th influence of Alcohol in 2018.
3) One man driving a motorcycle at night, no helmet, speed involved.
4) A stabbing death in the Historic Village of Placitas due to, percieved speeding and road rage on a road marked 10 mile and hour.
No deaths due to Wild Horses since the writer has lived in Placitas since 1987. However, if it ever happen it will be due to these government
THIS IS WHAT IT LOOK LIKE ACROSS THE STATE AND SANDOVAL COUNTY
PLACITANS DON'T EVEN HAVE CATTLE GUARDS AT I-25 and RT-165!
Virtually ALL the exits long I-25 with Wild Horses have cattle GUards at I-25. NMDOT aid in 2018 that Placits should have fencing and start with a public meeting. Instead they wait in hopes of a human death to blame on the horses in order to get rid of them. W have AMPL proof of this including NO CATTLE GUARDS at I-25 where PLacita has DEER Hits!!! USDA FS has worked to caue the wildlife on Sandia Mountain to Die of Thirst apparently a the precaution. Works best for DEVELOPMENT? No!
OUR STATE REPRESENTATIVES who also KNOW here is plenty of Funding for Wildlife Corridor.
PLACITAS AREA PLAN ( See pages 26,38,40,64,66 Wildlife Corridor v Loop Road-Highway),
WILDLIFE CORRIDOR MURAL at Community Entrance top of hill just East of Exit 142,
WILD HORSE GENE POOL – Declared Cultural Historic Properties by San Felipe Pueblo in 2004. BLM and State Historic Preservation Officr both Ignored. .
Examples Include:
NOTICE OF TORTS to Sandoval County et. al
1) Illegal Round-up of 4 Wild Horses by Team Sandoval County, with NMLB, and citizens, "Nice Man in Belen" , "to relocate to other states," in fact to out of state to KILL BUYER AUCTION.
2) Illegal Ordinance /No Jurisdiction by Team Sandoval County
3) Making New Mexico dangerous for Wild Horse Advocates and Protected Wild Horses See links in Attachments.
IF a Wild Horse, Deer, Bear, Coyote, Cougar gets on I-25 from this official WILDLIFE CORRIDOR through Placitas, it will be due to NEGLIGENCE with intent of the NMDOT and Sandoval County for disallowing standard safety equipment (cattle guards) for the protection of all.
(1) FAILED — ORDINANCE TO BAN NUTRIENTS (WATER) to WILD HORSES https://www.sandovalcountynm.gov/wp-content/uploads/2023/03/202303_WildlifeFeedingOrdinance.pdf
(2) PASSED — ORDINANCE NO. 5-24-23.10 Free Roaming Horses – LIVESTOCK: This Ordinance that Placitans and their Wild Hoss in this special Wildlife Corridor are being endangered and harassed and this faux Ordinance is not even included in their codified Ordinances online. https://library.municode.com/nm/sandoval_county/codes/code_of_ordinances?nodeId=SUHITA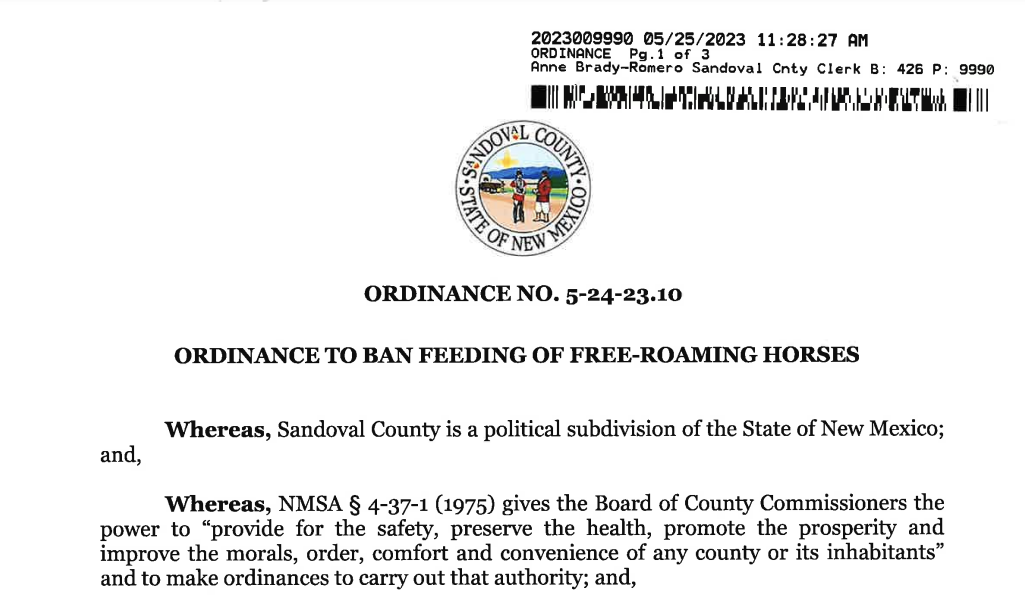 . Unconstitutional as well. https://www.nmlegis.gov/Legislation/Legislation?Chamber=S&LegType=B&LegNo=301&year=23
(7) People are literally requested to water the Bears.
https://www.cabq.gov/council/find-your-councilor/district-8/news/living-with-bears

USDA Forest Service: SANDIA MOUNTAIN
https://www.fs.usda.gov/Internet/FSE_DOCUMENTS/fsbdev3_065568.pdf
(9) https://whoanm.org/wordpress/ "Opposition to SB301" and:
Posted on March 17, 2023 by whoa
"At the same time perennial springs of Placitas are literally being destroyed, and stream catchments or acequias and perennial springs are being fenced away from wildlife. This Proposed Ordinance attempts to inhumanly take control over water for wildlife and on private property."
Date: 2/22/2023
(11) https://whoanm.org/Buffalo%20Tract%20PROPOSAL%20to%20Safeguard%20PLACITAS,%20NM%20%20Really_Ques.pdf
The NMDOT reccommended fencing and to start with a public meeting.

(1) This law (NMSA 77-18-5) was passed unanimously minus 1.
(2) https://whoanm.org/wordpress/upheld-by-nm-courts-dna-testing-requirement-placitas-spanish-horses/ Values lower than 80% indicate crossbreeding per UC Davis.