While BULLS ROLL CARS and kill people.
Deer are hit from the Sandia Mountain all the way to I25 near exit 242. Wild horses are not near I 25.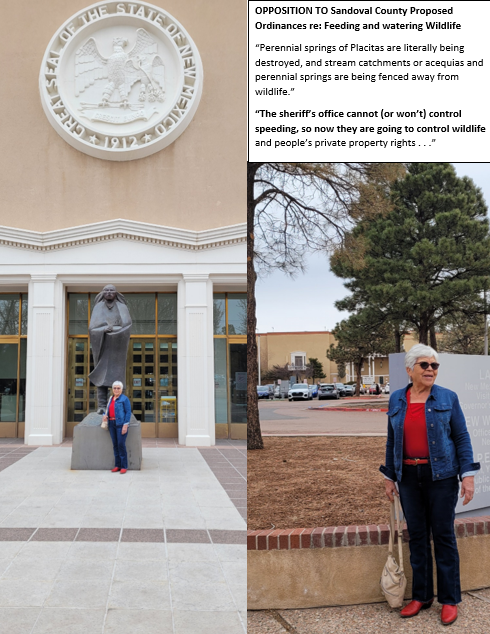 To: Sandoval County Commissioners, Wayne Johnson Mgr. S.C., Mitchico Martin USDA FS
From: M.L.G.S.
Re: I oppose the Sandoval County Sheriff's Proposed Ordinance against feeding and WATERING wildlife. The sheriff's office cannot control speeding, so now they are going to control wildlife and people's private property rights and give out wildlife feed and water permits here and there, monthly?
At the same time perennial springs of Placitas are literally being destroyed, and stream catchments or acequias and perennial springs are being fenced away from wildlife. This Proposed Ordinance attempts to inhumanly take control over water for wildlife and on private property.
Date: 2/22/2023
Dear Sandoval County Commissioners, Wayne Johnson, Mitchico Martin USDA FS
I am the living Matriarch of the Gonzales family of La Madera NM on the East side of the Sandia Mountains in Sandoval County. La Madera Rd intersects Gonzales Rd where we were raised on the La Aguapa Ranch, still there today and where Sandoval County considers putting a highway connecting Rt14 to I25.
I was literally born there in Sandoval County at La Madera by mid-wife on May 14th 1938 along with most of my 15 siblings who also were born there, and not in a hospital.
We have run cattle, horses, goats and pigs on the East side of the mountain. My family still has some of the land there. Our family members that we have lost are ALL buried in the La Madera Cemetery nearby. My Dad and his brothers were also born there at La Madera on the ranch. Some are buried on the ranch.
We walked to Puertecito to grade school a round trip of 9 miles per day. My Dad later drove us to Algodonas to school for eighth grade and to Bernalillo to get our groceries. That is to say, I know this area, la gente, and the wildlife.
The wild horses have ALWAYS been here on both sides of the mountain throughout my lifetime, and including to this date.
There were ALWAYS deer, wild horses, cows, Mt. Lions, Jack Rabbits, coyotes, drinking from our water in La Madera and from the Ojito on our property. We used to cover a spot in Ojito Spring to have clean water for the family but allowed the water to run out for the wildlife. ALL the wildlife, including the wild horses. (I don't recall any bears.)
We kids carried the water from the Ojito to our home every other day.
We regularly sold fire wood to the San Felipe Pueblo and enjoyed the wild horses along the way there.
My grandchildren live in Placitas and I spend many happy days there every year often 6 to 12 stays per year enjoying family, horse riding (used to ride all the way to the back-side), the mountains, and the wild horses and I have done so since about 1987.
I am sad to say that the local Placitas Land Grant – San Antonio De Las Huertas and the local Acequias are fencing Wildlife out of acequias and perennial waters in the national forest and Placitas.
There is a huge holding tank acequia up the mountain in the national forest blocking waters from flowing to Placitas where the wild horses have always roamed along with other wildlife. (See below)
Perennial springs and stream catchments in Placitas are being fenced AWAY from wildlife and even destroyed. See pictures below. There are those that stand to gain from commercial activity on the Buffalo Tract BLM lands, and therefore stand to gain from creating a humanitarian issue for wildlife in order to cause the removal of the wild horses.
In seeming unison, Sandoval County Sheriff's Proposed Ordinance attempts to inhumanely control homeowner's personal rights and generosity to share water with wildlife.
This is not how to improve road Safety, this is how to create a humanitarian issue only.
How much money was spent on this in our National Forest, a wilderness area? For a picture of water?
"Si haces mal, bien no esperes."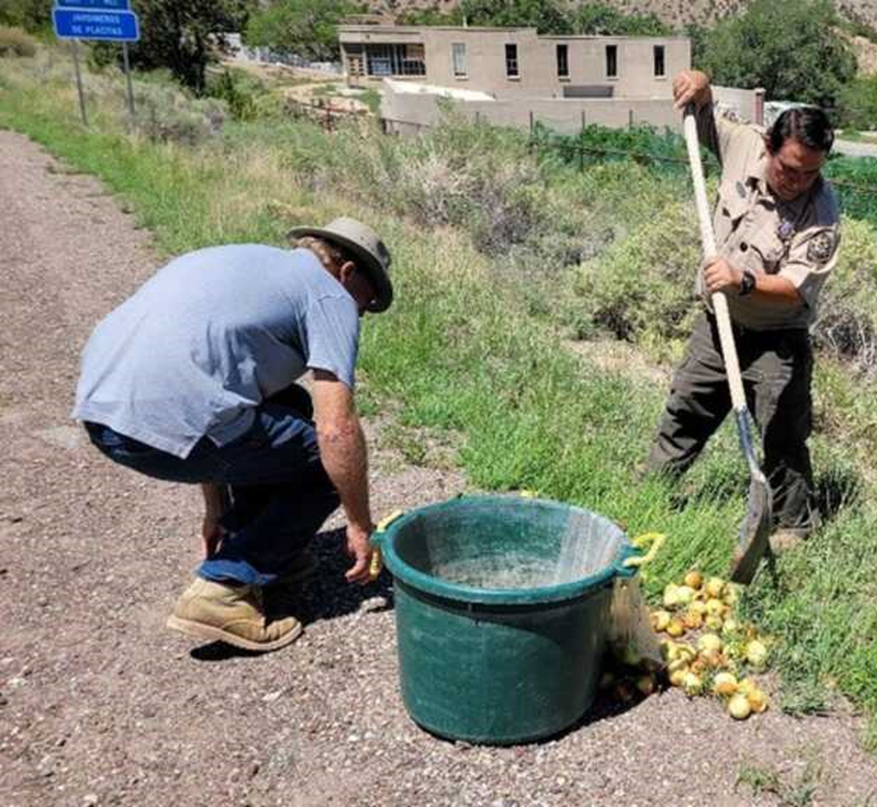 Creating a road hazard This is already illegal, see the police cleaning up this lure trap of apparently local apples on RT165?
These are the things that intentionally and unlawfully cause a Safety Hazard, not the wild horses.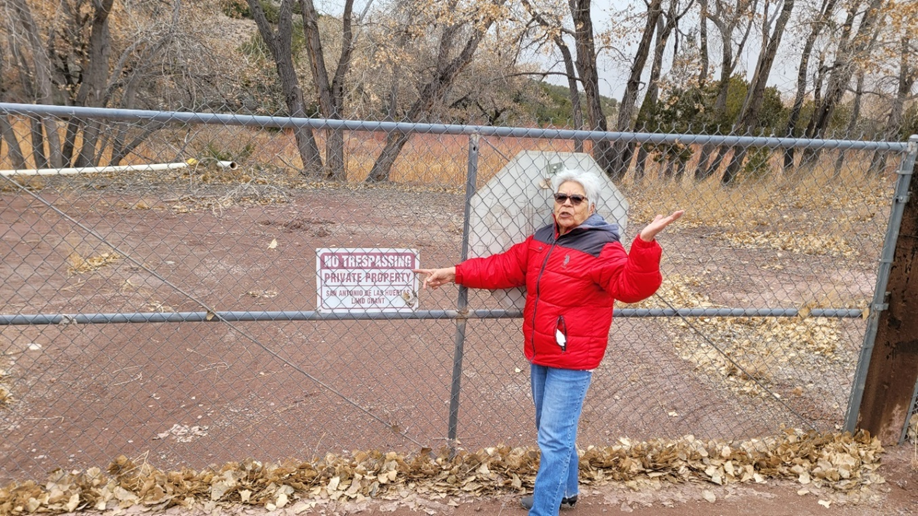 There are other perennial springs in Placitas out along Tecolote and San Francisco Rd and some there have also been destroyed too, but there is at least one left that is not destroyed, reduced, or fenced.
TUNNEL SPRINGS?
The famous year-round spring at Tunnel Springs at Placitas in a WILDERNESS AREA is blocked off, literally PLUGGED as I now understand. An act against wildlife roaming in this wildlife corridor? Now to be called, just TUNNEL?
FIRE HAZARD
I also have to say a short note about the fire hazards caused by the acequia just 1500ft past the houses of Placitas in the Sandia National Forest. There are all kinds of cut dead branches and dead trees that were cut along this acequia and or caused by this acequia changing the water flow, JUST WAITING for a fire. If it was allowed for people to CUT trees in a Wilderness Area, or remove their water source, it should be allowed to remove them. Both Placitans and the wildlife deserve better.
POOR ROADS for ingress and egress up the back of the mountain IF and WHEN there is a FIRE add to the danger. I have a close-relative who is a professional in this area who is very concerned.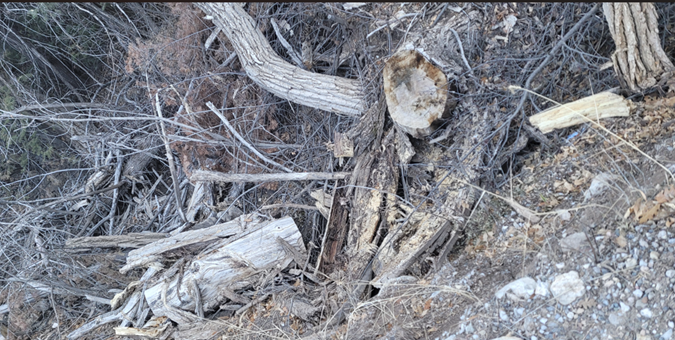 FIRE HAZARD REDUCTION IN PLACITAS
Is also reduced by wild horses grazing between homes, reducing spread of fire that can spread due to dry yellow grasses. Remember Wild Horses and Deer do not compete as wild horses are grazers and Deer are browsers (leaves and Forbes.)
Deer stay nearer to the mountains than horses. They are not grazers, and would not move far from the mountain into Placitas in any case. I understand that two Deer were recently hit on 165 in Placitas near Tunnel Springs Rd and the Library.
OVER ALL
Some folks want a constitutional "right to hunt" on public lands, but Sandoval County and Sheriff Jesse James Casaus want to take away our "right to water" on our own private property. Instead, I'd rather they just do their job of traffic control. Water is life!
It is sad that this has to be said, and I am sorry it had to be said.
M.L.G.S, address redacted.