Loop Road
Connecting I-25 to Hwy14 Endangers Wildlife
The Sandia Wildlife Corridor and the Placitas Wild Horses urgently need your help:

Our Federal officials and local governments

are ignoring the will of people and the wildlife that grace them
<![endif]--><![if !vml]>
<![endif]>

Communities on both sides of New Mexico's Sandia Mountain have successfully opposed an Albuquerque bypass** (Loop Rd) around the northern flank of Sandia Mt. for over 20 years. The development of this Loop Rd though Placitas and its adjacent BLM would destroy the viability of the Wild Horses on the Placitas-area BLM and many other Sandia Mt wild animals, irreparably interrupt the Wildlife Corridor that stretches across the continent, from Canada to Mexico, and destroy the local rural communities on both sides of Sandia Mountain with eminent domain takings, over-development, and unwanted through-traffic (including it's air pollution and noise) and pose serious threat of water mining in many areas.

WHOA has been working uncover and to disclose the continuing efforts to build the Loop Rd, and is working to promote the communities' concerns and wishes. WHOA started with a community-wide survey (Placitas and East Mt. communities) regarding the Placitas-area BLM. Results showed overwhelming support for the Placitas Wild Horses and Sandia Mt. wildlife and strong opposition to the Loop Rd. During the recent Placitas Area Plan meetings, community consensus was reached again, against the development of the Loop Rd through the Placitas-area, and again support for the Wild Horses and the Wildlife Corridor was expressed however the County government and the BLM have disallowed discussion of the Northern BLM alternatives where the Loop Rd is planned.

Despite the clear will of the people, and financially viable alternatives, local, State, and Federal officials continue to covertly advance Loop Rd plans contrary to open meetings requirements, through the acquisition of right-of-ways, other government entities, unannounced closed meetings, and their opposition to discussion of alternate land uses in public planning process by both the BLM Resource Management Update (RMP) and the Placitas Area Plan. These actions in pursuit of the Loop Rd lack government transparency and public input is being completely stifled throwing both planning process' into question. The development of the Loop Rd is being planned behind closed doors between government and elected officials, out-of-state developers, Washington lobbyists, and local elites. WHOA has sought to bring the details of these plans to the light-of-day through Freedom of Information Act and Open Meetings Act requests, some of which have proven their pursuit of the Loop Rd while some remain unanswered contrary to NM Sunshine laws.

WHOA has also previously sought to protect the Placitas Wild Horses and other wildlife by establishing the legally wild status of the horses. WHOA has gained unanimous passage of a number of state legislative Bills and Memorials carried by the Honorable Senator Komadina, that seek to protect and preserve the cultural and natural history as embodied in these horses, and promote rural economic development through Heritage Eco / Tourism the largest private sector employer in NM, that utilizes the beauty of New Mexico, the wild horses, and their cultural importance to our nation and mankind. WHOA has proposed the protection of the Placitas-area open spaces and wildlife through the creation of a NM Wild Horse Park on parts of the Northern BLM lands while supporting a "marriage" between The San Antonio de Las Huertas Land Grant desire and request to the BLM for 500 acres of traditional lands not restored to them under the Treaty of Guadalupe Hidalgo. This request is also seemingly supported by the GAO Report to Congress on this treaty which set aside Native American Lands as permanent and Spanish Lands as saleable. Much of the Spanish lands were lost through various acts of partition and usury such as requiring a payment of part of these lands in order to cover costs of proving it was their land, or taxing a land based economy for public works which in some cases destroyed the lands ability to produce necessitating a payment in the form of land etc.

WIN WIN Proposal - When WHOA learned of the Land Grant request to the BLM for 500 acres, part of the same lands which WHOA and many in Placitas and across the state desired for a Wild Horse State Park/Wildlife Corridor, WHOA proposed a simple Win Win solution. Support the Land Grants rightful request for the 500 acres or even for the entire BLM however, reserve all but the requested 500 acres for the wild horses and wildlife corridor upon which the Land Grant could run the Heritage Tourism aspects of the remaining Open Space and reap the financial rewards if they desired. As WHOA is a not for profit, this is a Win Win for WHOA and the other approximately 5500 Placitans of whom the majority are in accord with WHOA. The Placitas community that has done so much to protect the wildlife/horses and the public safety (one example is installing 4 miles of fencing on the BLM and Albuquerque Open Space lands and the Wildlife Mosaic is in process by Pathways Wildlife Corridors of New Mexico. and citizen scientist wildlife tracking program to support the wildlife corridors through Placitas and the State.

The Placitas-area BLM lands can be obtained by the State of New Mexico for free, through the Public Parks and Purposes Act, and a Land Tenure Adjustment of the BLM lands to NM State lands (without Congressional action since it is less than 5000 acres). Alternatively the Land Grant could obtain them through a government to government transfer, and then set aside as Open Space all but the 500 which the SADLH Land Grant believes was overlooked under the Treaty.

Unfortunately, WHOA has never been allowed to meet with the Land Grant Board or it's members for a discussion of this proposal, only with it's President and two members along with Udall staff. The President of the Land Grant has repeatedly asked WHOA, "What about the people?", however gives no explanation for what is lacking in this Win Win proposal, in terms of people. WHOA has continued to support the Land Grants bid for the 500 acres they have asked for and has alerted the Placitas community to the Land Grant's desire and justification for it and has thus delivered many signed action alerts to the BLM on their behalf.

WIN LOSE Possibility - It appears however that the politicos are aligned with the developers for a Loop Rd instead. It also appears that their version of a WIN WIN deal is that the Land Grant gets the land and a Loop RD to it, while the Developers and Sandoval County government get the rampant development called out in the 2001 DOT Corridor Study I-25 to RT14. In this scenario, everyone wins except all the people in the Placitas and East Mt communities who are not part of the SADLH Land Grant or the La Madera Land Grant, or Developers, meanwhile the politicos get to appear as defenders of the Land Grants while it is the developers who will make the greatest gain, many of them out-of-state. The politicos have even strongly opposed the West-Wide Energy Corridor alongside Diamond Tail and their law firm, as the Energy Corridor would have been bad for Developers. Interestingly these same politicos, have even stopped giving lip service and are now silent on this Loop RD.

Though the Land Grant President has verbally opposed the Loop Rd and supported the horses in a Placitas public meeting, there are no concomitant actions or written statements to date to support either assertion, and the Land Grant President has continued to disallow WHOA to present to the Land Grant members, just the same as Sandoval County and the BLM have blocked WHOA's and the communities other voices. WHOA has some evidence to the regard that Land Grant members (excluding the President) were not even aware that the NM Interim Senate Committee on Land Grants planned and did request, on Sep 30th 2008 to the BLM's Tom Gow and Joe Blackmon, to put Placitas BLM land disposal (land tenure adjustments) on hold while this committee and the federal politicos acquire these BLM lands through an Act of Congress in accord with a GAO report. This with no mention to the rest of the Placitas community or the public Placitas Area Planning process, not even the Placitas SADLH Land grant members were aware of this, though WHOA let others know within the Land Grant.

How sadly unnecessary as 5500 Placitans have United and willingly supported the 25 to 30 Land Grant members goals. Much support was also documented to the BLM and Sandoval County in the East Mt communities for the Land grants desire for the 500 acres through the bulk mailed WHOA comprehensive survey. How will these communities feel when they understand how cowardly a process this has become. These communities have shown they are looking for a WIN WIN solution through their support and cooperation (in writing). The politicos and the President of the Land Grant have shown that it just doesn't matter that goodwill and coming together of the entire diverse Placitas community has been trampled on.

WIN WIN WIN Possibility - Thinking out of the box, WHOA even discussed an alternative of a train route with Senator Udall's staff as a WIN WIN WIN possibility which would be greener than a Loop Rd, though this has not been vetted through any public process and would need to be, and though this could also potentially spark development. To this idea Udall's staff said that would not be necessary as Martin Heinrich was supporting RT 22 as the alternate (and existing) Corridor, but this is now 2 months old news, and WHOA and the community are still waiting for a Champion and an open public process where the real stake holders talk honestly about the real options that are being pursued. In the meantime, Sandoval County and the BLM race along in their implementation of the Loop Rd through Placitas and the Placitas BLM and the Placitas Planning process is screeching to a pre-mature close. (See Alert of March 4th)

The BLM and Sandoval County governments have worked in unison and with immunity, to deny and actually prohibit Placitan and East Mt. inputs, representation, and equal protection under the law in these matters. The BLM declared over a thousand mostly Placitan and East Mt comments regarding the Loop Rd, Wild Horse State Park, and it's Land Tenure Adjustments, outside the scope of the BLM Resource Management Plan (RMP) Update, thereby making irrelevant over one thousand inputs. Sandoval County gained cooperative agency status in the BLM RMP process and also became the Placitas BLM RAC representative, while specifically prohibiting comments on the Northern BLM, the Loop Rd, the Wild Horse State Park etc. from Placitans who they specifically signed up to represent. Moreover, Sandoval County per their Comprehensive Plan is legally bound to represent it's citizens in any process' with the BLM. Despite these responsibilities, Sandoval County has disallowed comment on the largest tract of BLM lands in Placitas by way of arbitrarily not including it in the Placitas Area Plan without justification. Moreover, the Sandoval County Attorney has requested that the county commissioner assigned to and voted in partially by Placitans, and who is their RAC representative to the BLM, as well as their only representative in the Placitas Area Planning process, not attend the Placitas Area plan meetings, and he has not, to date of March 4, 09. Sandoval County has even gone so far as to call a point of order to disallow comment on the Northern BLM parcel in Placitas (1 of 3 parcels). The other 2 parcels of BLM lands are arbitrarily included in the Placitas Area plan for comment however.

Federal Representatives - Importantly and interestingly, Placitans again have no representation in these matters from their federal representatives, though not for lack of Placitan unity, goodwill, viable alternatives, and not for lack of long term effort and sincere requests for help. WHOA contends that both of these public planning process' are in question, on these and other significant counts (more below).

By denying specific input in both public planning process' the BLM can skew the results away from what the residents overwhelmingly want. Also by repeatedly changing the status of the Loop Rd (without open meetings and without notice of closed meetings) and then stating that they, Sandoval County will not pursue the Loop Rd until after the BLM's RMP (meanwhile keeping the option open for the Loop Rd), further denies the neighboring communities a voice in the BLM's RMP, with the BLM's consent.

Urgent Updates

On 2/27/2009 The Sandoval County Planning and Zoning commission opened the first allowed public comment on this BLM on the last evening for public comment, without notice. This after months of denying this public comment and after calling a point of order against any comment on this BLM at the very meeting previous. Point of order meaning, if you speak of this BLM, you will be escorted out of the meeting. Please click on the Alert below and send your inputs on the BLM and it's planned Loop Rd and it's affects on the wildlife of the Crest of Montezuma and Sandia Mt., your rural communities, water, air, and the Placitas Wild Horses.

What you can do (Alert of March 4th, also still valid)

Sandoval County- takes RADICAL STAND ON LOOP RD. Final DRAFT Plan POSTED March 11th, 2009

Sandoval County is keeping the option open for the Loop RD

"for development in other parts of the county" (presumably East Mts). Though in the same section it states, "Virtually all participants from the area were overwhelmingly in opposition to a loop road through Placitas". See page 64 of FINAL DRAFT PLAN Additionally, per Federal Regional Transportation Act - Regional Roads for expansion rather than congestion relief appear illegal. (See Alert of March 22ed). Apparent indefensible process issues mounting.

What you can do (Alert of March 22nd)

**Note: Over the years, the Loop Rd has been known as just that, the "Loop Rd". However, recently Sandoval County, the BLM and the State have begun spawning off different names for the Loop Rd, including: Northeast Corridor, N. Mustang Hwy, and the Regional Roadway Alternate. As such, you may encounter these different names not only on our website, but also in other public documents.
Documentation
(WHOA has further relevant documentation on these matters but has needed to raise this web page quickly,

see Alert of March 4th)
| | |
| --- | --- |
| | 2001 NMDOT Corridor Study and Endangered Flora/Fauna This is not the entire list of wildlife native to the area, which includes Puma's, Bob Cats, Wild Turkeys, Bears, Deer, Goats, wild horses and more. |
| | |
| | 2004 San Felipe declaration that the Placitas Wild Horses are Cultural Historic Properties (of the State of New Mexico and protected by the State Historic Preservation Officer) |
| | 2000 to 2006 East Mt Water Lawsuits. There are and have been other Placitan lawsuits regarding water vs. development, loss of natural springs, and water run off issues caused by development, by private citizens. See 2009 below. |
| | 2006 LAND GRANT Interim Senate Committee Minutes of August 1st pg2- President of the San Antonio de Las Huertas Land Grant calling out West Placitas as "Bernalillo Heights" based on historical information / Land Grant boundaries. |
| | 2007 Annual Sandoval County Development Report discovered by WHOA on March 12 2008, BLM RMP already in process |
| | 2008 March 21 - Senator Komadina Placitas Horses are legally wild Response raises the question on potential conflicts of interest regarding development, airports, brine wells, and Sandoval County Loop Rds and more. Or alternatively, perhaps simply following the GAO report on the Treaty of Guadalupe Hidalgo in redress options. Jason Burnett also sent similar legal justification to the BLM's State Director Linda Rundell. |
| | Water Assembly report for WHOA's April 5th public meeting on the BLM RMP |
| | Rodey Law firm treatise against the West Wide Energy Corridor through Placitas/BLM ( Many of the same arguments hold true against the Loop Rd) |
| | 2008 April 5th WHOA Placitas Public Meeting regarding the BLM RMP - The week before Sandoval County Director of Development states; The Loop Rd is confidential as it is "under property acquisition". |
| | 2008 April 24th Sandoval County Right of Way (ROW) request to the BLM |
| | 2008 May 1st - Jason Burnett's assertions to Linda Rundell BLM's State Director, regarding the Placitas Community and their work for and around the BLM and it's wild horses. Janice Saxton also represented Placitans in this same laudable manner to Linda Rundell. |
| | |
| | 2008 San Antonio De Las Huertas Land Grant submission to the BLM RMP Scoping |
| | |
| | |
| | 2008 LAND GRANT Interim Senate Committee Sept 30th Minutes - Request to put BLM Land Disposals on hold for US Congressional action - Outside of the 2 local public process' of the Placitas Area Plan and the BLM's Rio Puerco Resource Management Plan Update (unit 5 - Placitas to Budagers). Even outside most of the Land Grant members knowledge, excluding the President of the local San Antonio de Las Huertas (SADLH) Land grant. |
| | 2008 Sandoval County Staff Recommendations for Placitas Area Plan |
| | N. Mustang Hwy (Loop Rd on Goggle Maps) vs. current Palomino Rd (MapQuest) |
| | 2008 December Request to Udall/BLM for explanation of BLM opening right of way - No response on this request to date (4/3/09) |
| | 2009 Jan. Draft Placitas Area Plan (Includes Regional Roadway Alternate - This nomenclature my make it easier to take it out of local hands as it was clear the locals are united in opposition) |
| | |
| | 2009 Water Information/Law Suits East Mts. There are other current and recent water lawsuits in Placitas by private citizens and Acequia members. |
| | |
| | 2009 Update on Placitas Lomos Altos Water transfer Protest by Kay Matthews |
| | 2009 Placitas Area Plan - Final Draft |

Table of Contents
Private Property Right-of-Way Acquired

Pueblo Land Right-of-Way in Progress (according to state official)

Right-of-Way into Placitas Neighborhoods Being Established: N. Mustang Hwy

Loop Rd Maps: Western Portion and Eastern Portion

Loop Rd Map: Western Portion Right-of-Way Acquisitions/Establishment
Click on the Links above to jump to more information, or scroll through the webpage.

A NMDOT study on the impacts of a Loop Road, though flawed, admits to 15,000 to 21,000 trips per day, an additional 20,000 people using water in Placitas (current pop 6,000). The implications of these findings are an increase in crime, noise pollution, air pollution, run off into Las Huertas Creek, loss of wildlife , loss of Open Spaces, loss of night sky, loss of our rural atmosphere, and water shortages as well as 350 to 400 acres of eminent domain takings to top off the loss of wildlife, the wildlife corridor, and wild horse habitat. Put simply, it is the biggest threat to the Crest of Montezuma and Sandia Mt. wildlife and rural communities and their current and future water rights. (See Alert of March 4th for further details)
Despite these devastating implications, Sandoval County government and the BLM are still pushing for the usual planning by rote, rather than planning to preserve, utilize, and protect what is special here in our beautiful Land of Enchantment.
Endangers Wildlife and Rural Economic Development Opportunities
What will a Loop Road do to the Placitas Wild Horse herd and other wildlife?:
In June 2008, the Western Governors Association adopted a new report and committed to protect wildlife migration and crucial habitat. The Wildlife Corridor through the Rockies from Canada to Mexico is only broken here in the Land of Enchantment at I-40. An additional "Loop Rd" connecting I-25 to NM-14 would complete the road noose around Sandia Mountain, cutting off the wildlife corridor and threatening the genetic viability of species like bears and mountain lions, and bringing overdevelopment and traffic congestion to the surrounding rural communities. This same kind of lack of forethought and consideration resulted in all the coyotes and wildlife who died in Rio Rancho on Hwy 528 in front of the then just constructed sound barrier wall, which blocked wildlife on the West Mesa from getting to the river next to Rivers Edge rather than make some pathways under the highway. This is not the planning we need to continue in our Land of Enchantment.
WHOA has been developing plans for rural economic development, through the creation of a Wild Horse Park, which would utilize the cultural and natural history embodied by the Wild Horses, and which would preserve the wildlife corridor. WHOA has generated considerable momentum for such a plan in the State legislature, however, the lack of support from Sandoval County government and the BLM (in favor or a Loop Rd) have greatly hindered these efforts and the development of the Loop Rd or the perpetual option open for it, would eliminate its possibility.
Bottom line: The NE Corridor/Loop Road is incompatible with the continuing viability of the Placitas-area Wild Horses, the Wildlife Corridors and the desires of the rural communities as well as irresponsible development with respect to water.
Brings Over-Development and Through-Traffic to Rural Communities
What will a Loop Road do to Placitas and other rural communities:
| | |
| --- | --- |
| | It will undoubtedly provide the access needed to bring over development and/or more mining, further straining the communities' water resources. |
| | Semi-trucks and other through-traffic will utilize a NE Corridor to bypass Albuquerque and the Big-I interchange, to the tune of 15,000 to 21,000 trips per day. |
| | The transport of Hazardous Materials could be routed through a NE Corridor, in order to avoid the more populous route through the Big-I. |
| | Bring greater gridlock to the nexus of Bernalillo, Rio Rancho, NM550, and a NE Corridor. |
| | The "conceptual" map, as provided by Sandoval County, appears to route the Loop Rd through private land and residential neighborhoods. Eminent Domain takings (300 to 400 acres estimated by DOT) may result if the County proceeds with the Loop Rd project. |
| | An additional 20,000 people over the 5,500 people living in Placitas now per the DOT's 2001 Corridor Study for I-25 to RT14 |
| | Air pollution, noise pollution, and crime. |
| | See Alert of March 4th for further details on rural communities |
Not only will the Loop Rd change the character of NM-14 (which is part of the Turquoise Trail), but Hwy165 through Placitas would also become a de facto I-25 to NM-14 corridor, as some travelers will opt to use Hwy165 to connect to the Loop Rd in the eastern part of Placitas. Either way, the rural character of the Placitas and East Mountain communities, along with it's Wildlife Corridor and wild horses would become a thing of the past.
Water Issues
| | |
| --- | --- |
| | Bob Wessley Presentation for the April 5th 2008 Placitas Public meeting. |
| | Friends of Placitas Presentation to Sandoval County -" Sandoval County is selling the same drop of water over and over again, fraudulent." |
| | Sandia Knolls lawsuit information against further development based on water issues. |
| | City of Albuquerque Seventeenth Council Meeting = Resolution |
| | See Alert of March 4th for further details on water issues |
Open Government

Sandoval County and out-of-state developers/Washington lobbyists appear to be pushing for the creation of a Loop Rd connecting I-25 to NM-14 via a route just north of Sandia Mountain through Placitas and its northern parcel of BLM. Their published route would cut through the Placitas-area BLM, the wildlife corridor (which extends from Canada to Mexico) "with much work being done in the mid-NM mountain region to tie into the Mega Links project", through the Placitas Wild Horse habitat, and through Placitas community (Eminent Domain Takings). This Loop Rd. is projected per NMDOT to bring Albuquerque bypass traffic on a 4 lane highway with 21,000 trips/day through Placitas and the East Mountain communities as well as fuel further development and demand for water on both sides of Sandia Mountain. The chain of events which portray this, all but unstoppable train, include these listed below. We have left out the many public reports and statements saying that the Loop Rd is cancelled or on hold, including those by political representatives to WHOA.
2001 NMDOT Corridor Study
For 20 years or longer, a Loop Rd has repeatedly been considered and reconsidered, planned and re-planned, despite heavy opposition. During its last incarnation, it was included in a 2001 NMDOT Corridor Study. The 2001 NMDOT Corridor Study showed plans for a four lane highway from I-25 through Placitas and the adjacent BLM, to reach the developments of Diamond Tail, Paako, San Pedro Estates and others. Per the NMDOT Corridor Study, this corridor will also provide a detour route when parts of I-40 are closed, and projects 15,000 to 21,000 trips per day through this Loop Rd even on days when I-40 is not closed. With the development of the Loop Rd, NMDOT has projected another 20,000 people in Placitas, where there are currently only 5500, even though Placitas is basically platted out, with the very notable exceptions of the BLM, Albuquerque Open Space in Placitas, and subdivisions such as Diamond Tail and Windfall.
3/2008 - 2007 Sandoval County Annual Development Report, discovered by WHOA March 12 2008
The 2007 Sandoval County Development Report, pg 15, provided a "conceptual drawing" of the proposed Northeast Corridor (aka Loop Rd). This "conceptual route" deemed as such at a later date by Sandoval County is overlaid on a more detailed map, click here.
There are a few routes which approximately match Sandoval County's "conceptual drawing" of the Loop Rd, although the Sandoval County government has repeatedly denied they are actively working toward this and have even written to WHOA that it was "cancelled", there is much information to contradict this below and much that says they or designees have never stopped working and planning toward its development, right of way acquisition, and maneuvering for funding.
Also mentioned in the 2007 Annual Sandoval County Development Report, was the Placitas Area Plan. The Placitas Area Plan was to be started in mid-2008 and completed by the end of the year also announced alongside the Loop RD plan.
4/08 - Sandoval County Director County Development states; Right of Way (ROW) Granted between BLM and I25
Mike Springfield states that the owner of the property at the Algodonas exit north of Bernalillo and the lands/gravel pit all the way to the BLM has already granted Sandoval County right of way (ROW) for the Loop Rd. This is inline with where the planned Loop Rd is drawn per the Sandoval County 2007 Annual development Report.
4/2/2008 - The BLM Resource Management Plan Update Start
Beginning in 2008, the BLM began a Resource Management Plan (RMP) Update for the Rio Puerco District (which includes the Placitas-area BLM in it's Unit 5). RMPs help define the land uses for BLM lands and requires input from both the public and other governmental entities. Currently the Placitas-area BLM is used for both by recreational uses (including off-road vehicles, horseback riding, hiking, and shooting) and mining/extraction (gravel, sand, etc). It is also home to the Placitas Wild Horses, coyotes, rabbits, lizards, snakes, bob cats, wild turkeys, and other Sandia Mt wildlife, as well as being a vital part of the North American Wildlife Corridor and the local Puma corridors.
Interestingly, the Washington lobbyist who worked with Congressman Udall to obtain the money for the ongoing BLM RMP through the US Congress is also an out-of-state developer who owns the planned Windfall subdivision which would be along the path of the new Loop Rd and borders this BLM. WHOA has uncovered more interesting coincidences than we care to mention.
The RMP is a several year process, scheduled for completion in 2011. Well before the end of 2008 the BLM had completed the RMP Scoping for the Rio Puerco District. As impactful as a Loop Rd passing through Placitas would be to the Placitas-area BLM, the BLM has decided to disallow any public comments regarding a Loop Rd, as well as any comments about the Wild Horses and land disposal or Land Tenure adjustments to be "Out of the scope" of this RMP. WHOA finds this legally astounding and indefensible. This would allow for a Loop RD and also preclude a Wild Horse State Park and/or the Wild Life Corridors. As such, all attempts to address the Loop Rd issue and to have inputs to its planning through the BLM RMP have been quashed by the BLM to date of 3/3/09. See BLM RMP Scoping Report Appendix D.
4/17/2008 Sandoval County Mike Springfield states Actual Loop Rd map confidential as "under property acquisition".
In fact, in the same moment he states that " I am not even saying that there even is a map" and to "ask the Sandoval County Attorney what property acquisition means" upon further questioning regarding this term. WHOA later found this term in the Open Meetings Act as a reason for closed meetings but which still need public notification. There have been no notices to WHOA's knowledge and we have asked in writing.
4/25/2008 - 2008 Sandoval County Request for Right of Way through the Northern Placitas BLM parcel
WHOA obtained this directly from Sandoval County through the Inspection of Public Records Act. Notably, the cover letter to WHOA signed by the Sandoval County on June 24th, 2008 states that the Loop Rd is "cancelled". Also notably, the BLM did not furnish this under Freedom of Information as requested and instead stated verbally only that "we haven't received it". This they have also said about other consequential documents regarding this BLM.
6/24/2008 - Sandoval County Director of Public Affairs Gayland Bryant states that the plans for a secondary access for the Placitas Area have been cancelled.
Is this double speak? Is he not considering the Placitas BLM not part of the Placitas Area? Or is he saying that plans for a secondary access have been cancelled but not a Loop Rd? Or is this a disingenuous communication designed to mislead?
7-8/2008 - Sandoval County Long Range Planner Requests the Town of Bernalillo to spearhead the Loop Rd.
Another avenue for Sandoval County to push through the Loop Rd was to do it by proxy. The Town of Bernalillo Administrator stated that Moises Gonzales the Sandoval County long range planner had scheduled a meeting with the Town Administrator toward the end of July 2008 and asked the Town to "take the lead" on the Loop Rd. This was after the confrontational first meeting Moises had with the Placitas community regarding the Placitas Area Plan where he told western Placitans that they would be part of Bernalillo (as in Bernalillo Heights) and that the BLM and Diamond Tail (though both part of Placitas) would also not be allowed comment during the planning process (though they have a significant impact on transportation, water, open spaces, wildlife etc.). These decisions he told Placitans were a done deal and that he was only the messenger. (WHOA has written confirmation, through Open Records Request to the Town Administrator of The Town of Bernalillo, of the Sandoval County meeting with the Town of Bernalillo to discuss the Loop Rd. Thus corroborating the statement made by the town's administrator.)
9/28/08 - Sandoval County Long Range Planner plans Loop Rd through Placitas BLM to La Madera "excerpts below".
The Sandoval County Long Range Planner Moises Gonzales, a self stated member of the La Madera Land Grant, was recorded in a meeting with two "One Placitas" leaders, in meetings minutes, dated September 9, 2008, as say the following: "Outside and to the north of the Placitas Plan Area there might at some point be a road which connects I-25 to Rt14 in the east, which would perhaps go through the San Felipe tribal lands, part of the BLM land, and the eastern part of Diamond Tail, but would not go through Placitas proper. Such a road might be discussed when the County does an area plan for the La Madera area". (However, not allowed for discussion in the Placitas Area Plan he was leading, nor in the BLM's RMP.)
Placitans found this interesting that the planning of a 4 lane highway through the Placitas BLM, and Diamond Tail (a part of Placitas) that only the La Madera community, relatively barely inhabited, would be afforded a say in the Placitas BLM planning wrt a Loop Rd but that 5500 Placitans were prohibited.
9/30/2008 - NM Senate Interim Committee on Land Grants asks BLM to put a Moratorium on Land Disposals until Congress can consider this issue. No notice to San Antonio de Las Huertas Land Grant (outside their president who was present) or other Placitans.
The NM Senate Interim Committee on Land Grant invites the BLM to present to them on the Rio Puerco RMP after which the BLM is requested to put a moratorium on all Land Disposals "within it's historic boundaries" until Congress has a chance to consider this issue. Does this have any relation to the BLM's scoping report stating that Land tenure Adjustments are outside the Scope of this RMP, when Land tenure adjustments were one of eight comment areas the BLM requested inputs on? Placitan and East Mt communities will want to understand this as they by and large have supported the Land Tenure Adjustment for 500 acres of BLM land requested by the Placitan San Antonio de Las Huertas Land Grant as reported to them and as recommended by WHOA.
With approximately 30 San Antonio de Las Huertas Land Grant members and 5500 other Placitan residents not notified, this seems disingenuous or at least questionable to take this issue out of the two public process' which the community was deeply involved with. Placitans had by now clearly shown their strong opposition to the Loop RD. WHOA asked Udall staff in Dec 08 if he was going to take this Land Grant request to Congress among other questions. Udall staff (Rio Rancho and Washington) have so far refused to answer citing transition/computer/staff issues from Representative to Senate. With over 1.5 yrs of intimate information on this issue from many in the Placitas community including Pathways, the Placitas Coalition, one board member of Las Placitas, and Gordon Environmental, as well as from WHOA, and lack of follow through on two promises, it seems safe to say that Senator Udall supports a Loop Rd through Placitas and the Placitas BLM to Rt14 by his informed inaction. WHOA would of course be overjoyed to eat these words and will let you know immediately in that event.
12/05/08 - Right-of-Way through Placitas Neighborhoods Established with BLM gate removal/opening: N. Mustang Hwy which connects through the BLM to the I25 Algodonas exit right of way previously established by Sandoval County.
The BLM has opened the BLM fence at the three points where the Loop Rd passes from the BLM into Placitas neighborhoods, per the map of the "Northeast Corridor" in the Sandoval County 2007 Annual Development report. WHOA inquiries about this to the BLM, and to Senator Udall's office have yielded differing verbal responses not in line with conditions on the ground and nothing respectively. Rational from BLM's Tom Gow such as "Fence repair. The fence was being cut" to " There has been an increase in traffic" and "The BLM already has a legal right-of-way there" per BLM's John Hawkos do not jive with any conditions on the ground. (Placitans photographed the whole fence showing no cuts on the day of right of way opening). The right of way opening proceeded despite everything else regarding the BLM being "on hold" during the BLM RMP. Interestingly, police swarmed the mesa where this occurred for days after these BLM gates were opened until WHOA wrote an inquiry as well as called the local police inquiring for the upset neighbors as to their purpose and cause for concern.
Google Maps has now labeled the route leading through the Placitas neighborhood ("Indian Flats") to the new BLM right of way, as "N. Mustang Hwy". In a bit of irony, the highway (barging straight through private lands where no road exits) is already named after the horses it would wipe out. Palomino Rd is renamed as part of the N. Mustang Hwy. Llano del Norte is relabeled as Berlin Landing and it is noted that this name is similar to the name of a road inside the adjacent planned subdivision of Windfall owned by out of state developer and Washington lobbyist per the plat.
Sandoval County denies in writing having given this information to Google (Google gets their road name database from government sources). DOT states "it was most likely Sandoval County who fed this information to Goggle".
12/14/08 - Letter to BLM/Udall - Udall states they gave these questions to the BLM. No answers to date 3/2/09. All information and public survey results has been given to Udall through time for over a year and a half. There have been 2 highly appreciated promises of action, but sadly, no action to date. Udall worked with the Washington lobbyist who owns the Windfall planned subdivision / out of state developer, to get the funding from Congress for this BLM RMP. Udall also worked to stop the energy Corridor coming through this BLM and through Placitas to the East Mts, but again, no action on this Loop Rd to date.
12/2008 - Sandoval County Planning and Zoning Staff Recommendations' state
Recommends that Sandoval County maintain the option of a Loop Rd connecting I25 to RT 14 through Placitas.
1/09 - Placitas Area DRAFT Plan (This version of plan has now been removed from the County Website. WHY?)
This DRAFT Plan documents the latest new name of the Loop Rd from Northwest Corridor to Regional Roadway Alternate. WHOA feels that this new policy decision was made in closed meetings which were not advertised per the Open Meetings Act to our knowledge. Also in this report it is clear that there are 3 BLM parcels in the Placitas Area, but the Sandoval County government has arbitrarily excluded the Northern parcel with no justification or rational outside as not part of the Placitas Area Plan, but why? There is no precedent for this exclusion that WHOA can find.
1/26/09 - Planning and Zoning Meeting (Discussion of Placitas Area Draft Plan)
Mr. Hawthorn called a point of order before discussion of the DRAFT Plan - There were to be no comments or inputs made regarding the BLM. This was nothing new but interesting that he made it a point of order. WHOA had asked repeatedly to be able to present our Wild Horse State Park Presentation but was never allowed. At one point previously, Mr. Arango said that yes, WHOA could, however Mr. Gonzalez complained that there was not enough time. WHOA and others have not been able to present their alternatives for the BLM or to a Loop Rd to the County or to fellow Placitans and have any open discussions.
2/16/09 - Placitas Area Plan
Placitans and nearby communities have been, and are still denied the opportunity to express their desires regarding this parcel of BLM land in Placitas, and/or have the County represent them to the BLM, as our County representative, expressing the will of the people, and as our BLM RAC representative, and as a proper BLM cooperative agency. Our long term desires for this Northern parcel of Placitas BLM have been disallowed, stifled, all while the BLM allows Sandoval County to submit documents regarding the Loop RD as confidential under the Privacy Act.

This Plan version reverts to the previous name given the Loop RD as Northeast Corridor and does not mention the need to keep the Loop RD. as an option,, as did the DRAFT Plan a month earlier. Since then WHOA had submitted a number of Open Meetings Act questions and Inspection of public record requests as well as a written document specifically regarding all this in the Draft Plan. All of these requests for information are currently un-responded to and answered. WHOA would like greet this as a positive result however, the Northern BLM is still excluded from the Placitas Area Plan (as is Diamond Tail) and this hurried planning process is coming toward a close.

2/26/09 - Placitas Area Plan - P&Z- allows comment on the BLM - No Notice! - One night only!

On this last meeting for public input before this plan goes for vote and adoption by the Sandoval County Commission, and with no previous notice, comment on the BLM was allowed! No one was prepared and most who would give this comment, were not there after the last meeting's point of order being called against comment on the BLM. It is the writers understanding that a point of order means that if you speak about the BLM you can be removed from the premises. For the writer, it was impossible to attend as my son had a fever of 104 - 106 and kept spiking despite fever reducers. He is still sick, and has missed school this entire time though having been to the doctors. Point being, that one night, with no previous notice, is not sufficient, nor is it equal protection under the law for our inputs to be gathered and or considered on this important matter.

What you can do (Alert of March 4th, still valid)

3/11/09 Sandoval County- takes RADICAL STAND ON LOOP RD. Final DRAFT Plan POSTED

Sandoval County is keeping the option open for the Loop RD

"for development in other parts of the county" (presumably East Mts). Though in the same section it states, "Virtually all participants from the area were overwhelmingly in opposition to a loop road through Placitas". See page 64 of FINAL DRAFT PLAN Additionally, per Federal Regional Transportation Act - Regional Roads for expansion rather than congestion relief appear illegal. (See Alert of March 22ed). Apparent indefensible process issues mounting.

What you can do (Alert of March 22nd)
Loop Rd Map: Western Portion Right-of-Way Acquisitions/Establishment
The western portion of the Loop Rd, starting from I-25, could begin on the right-of-way access obtained by the Sandoval County through the private property/gravel pit and on the property adjacent directly to the east of the I-25 Algodones interchange, onto existing dirt trails through the BLM, passing through the newly opened right of way (ROW) of two-lanes leading to the newly named "N. Mustang Hwy".
Overlays of the Loop Rd./Northwest Corridor now named "Regional Roadway Alternate" show the mid section of the Loop RD traversing Camino de La Rosa Castilla adjacent to Las Huertas Creek and key historic and active to this day, Acequias.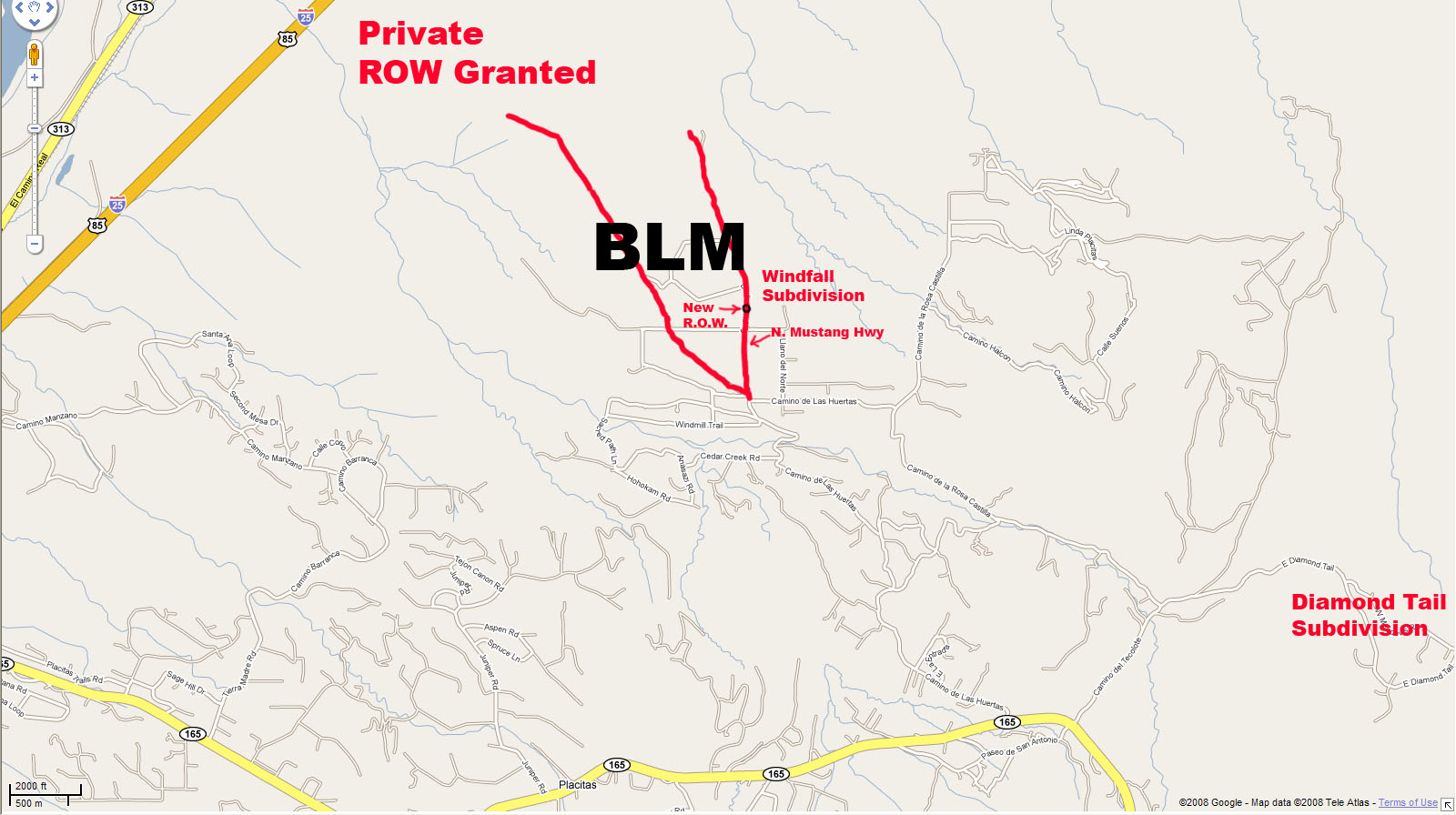 Loop Rd Map: Eastern Portion Options
The eastern portion of the Loop Rd, starting at NM-14, could begin through La Madera Rd or Puertocito Rd, toward a currently unlabeled path, with only ~7800 feet of road that would need to be established on Diamond Tail Ranch property to reach the current Diamond Tail subdivision.


Additional Documentation (Under Construction: Many more documents to add and on going)
Communications w/ Udall Office
WHOA has been actively recruiting support for the Wild Horses throughout the American West and especially in New Mexico, as well as working issues impacting the Wild Horses, such as the Loop Rd through the Placitas Wild Horse herds' habitat. WHOA has spent much effort in trying to gain U.S. Representative (now U.S. Senator) Udall's support, especially lately regarding the Loop Rd issue. We still are holding out hope for his support so please contact his office to urge them to support WHOA and others in the community in their efforts to save the Wild Horses and stop the Loop Rd.
Here are some of WHOA's communications with Udall's office:
Open Records Requests/Responses
Unfortunately our local, State and Federal governments have not been open about their activities and intentions in regard to the the Wild Horses, the Placitas-area BLM, and the Loop Rd. Much of the information WHOA has about their activities and intentions has been garnered through Open Records / Freedom of Information requests.
Below are some of the Open Records Requests and Responses:
Sandoval County
48 Requests Attachment (Received No Response)
NM Department of Transportation
Town of Bernalillo
Bureau of Land Management (BLM)
Office of the Governor (NM)
Office of the State Historic Preservation Officer (SHPO)